by Olivia Liu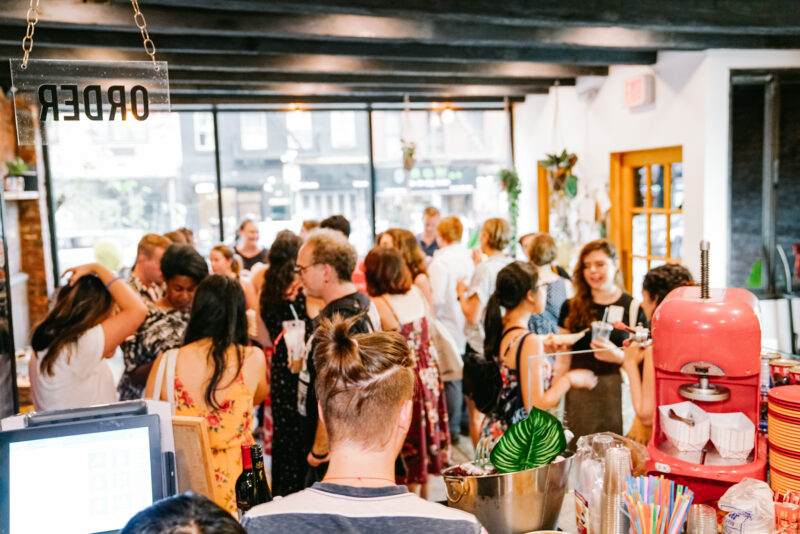 No one wanted to say goodbye to this extraordinary night. 88 Cups of Tea hosted its first-ever live event celebrating their 3-year anniversary the evening of August 8th. Upon walking into the venue you could immediately tell two things. One: Kopitiam is the cutest dang place ever. It belongs in Instagram feeds and Pinterest boards and your dreams.
Two: it was only that way because Yin's team worked their butts off. They added so many little touches, such attention to detail (even something as small as the nametags stood out, with each one decorated with a rainbow-colored cartoon narwhal or unicorn or flying dog), that showed how much they cared.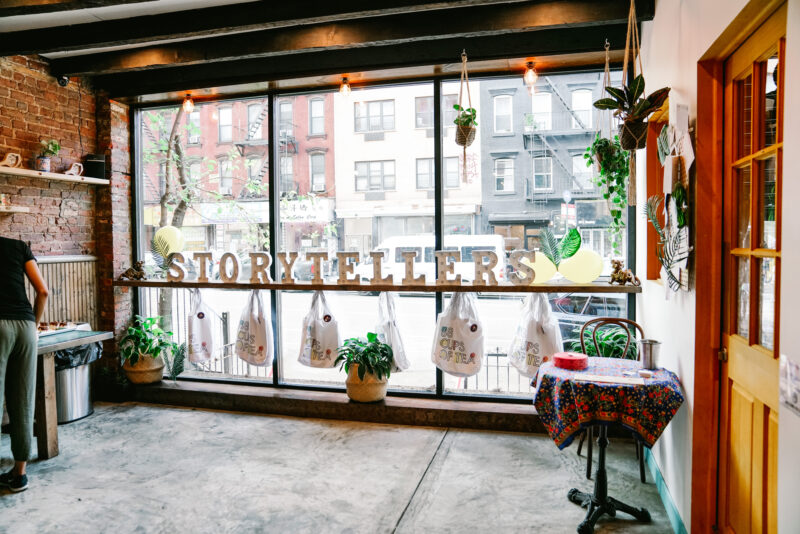 They had shown up all the way in the morning to do all the set-up, working nonstop until the party began at 6:30p.m.—then worked through the party, which ran late into the night, to ensure everything ran smoothly.
The same amount of detail and effort went into preparing the delicious food and drinks for the evening.  I must warn you to read this with a snack. Just one look at the photos should leave your stomach growling. From Malaysia's national dish Nasi Lemak with fried anchovies to chicken wrapped in pandan leaves, and lychee-infused mochi with rose petals to morning glory sticky rice with grated coconut sugar, it was a feast. It was all so freaking good, it made me wish that I had about seven more hands so I could juggle and munch on everything at once. It's a testament to our guests that I spent more time wanting to talk with them than shovel food into my mouth, bulldozer-style.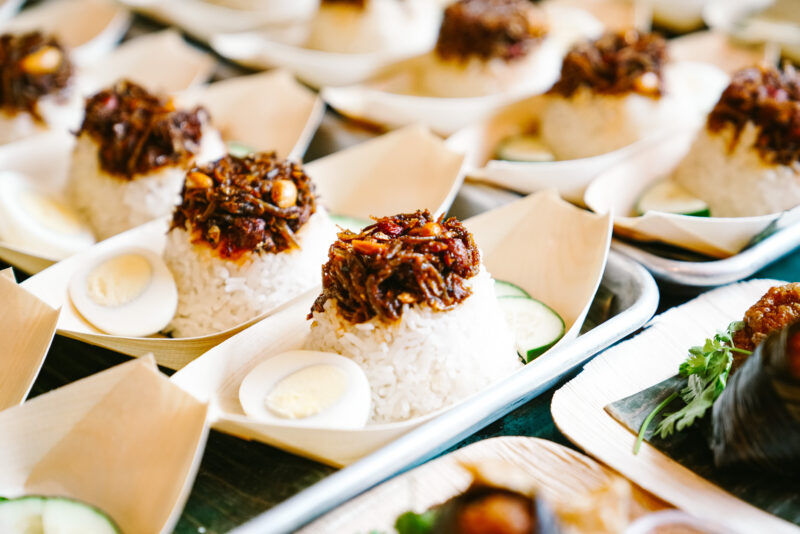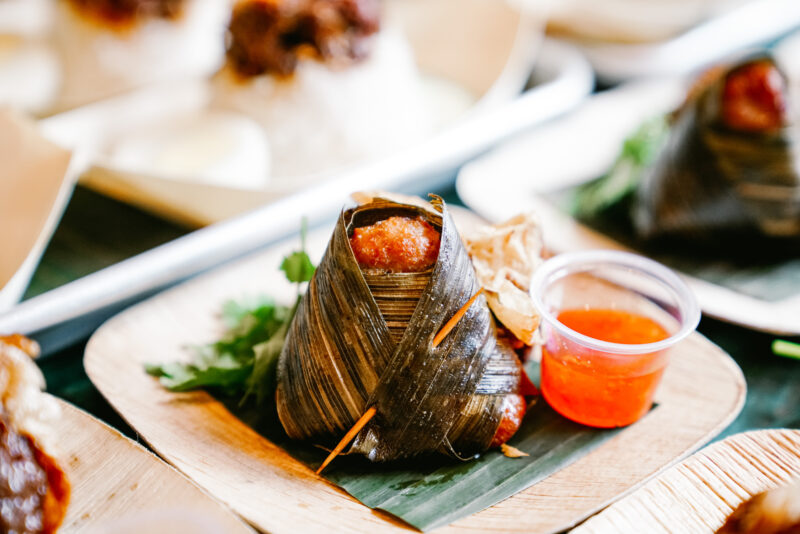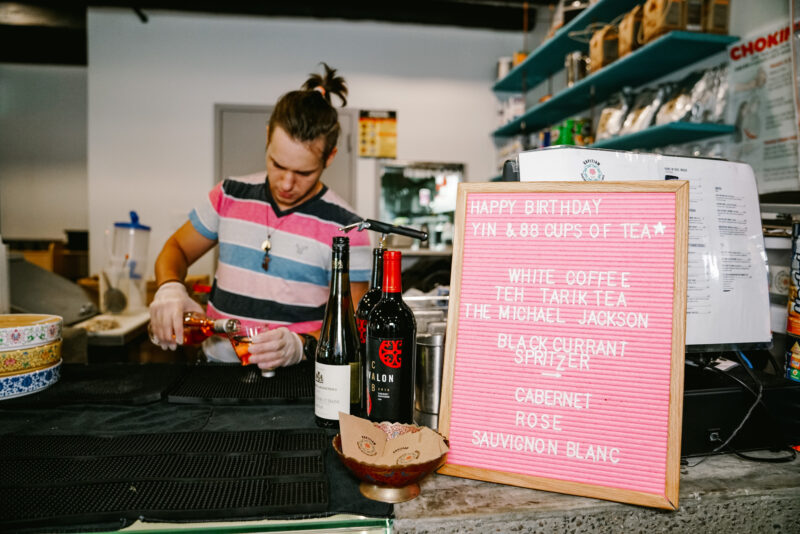 The blackcurrant spritzer was so good that it's probably what people are referring to when they say "nectar of the gods." The Michael Jackson, the Malaysian coffee shop slang named after his single titled "Black and White", is made with creamy soya bean milk and black grass jelly meant to cool you down on a hot day. And the fan-favorite of the night was the teh tarik, served in what looked like an IV bag, the drink container we didn't know we needed. (I like to think the drink is so good that it kills—but it's handily served in an IV bag we can use to revive you.)
As for the sweet stuff, 88 Cups of Tea partnered with some awesome local companies to bring it on. Fizzy Fox contributed a basket of their organic sparkling shrubs. (Life tip: try their pineapple and mint tonic.) Raaka Virgin Chocolate contributed bars and bars of their pink sea salt dark chocolate. I can literally still taste that perfect combo of tangy-sweetness on my tongue. Yup, no one was leaving this party without needing to get rolled out the door.
The 88 Cups of Tea team swept around the room like mama hens, making sure everyone had eaten, was still eating, and was going to eat some more. They were such wonderful hosts, making sure to stop and chat with everyone. Meeting Yin was simultaneously like meeting an old friend and a celebrity.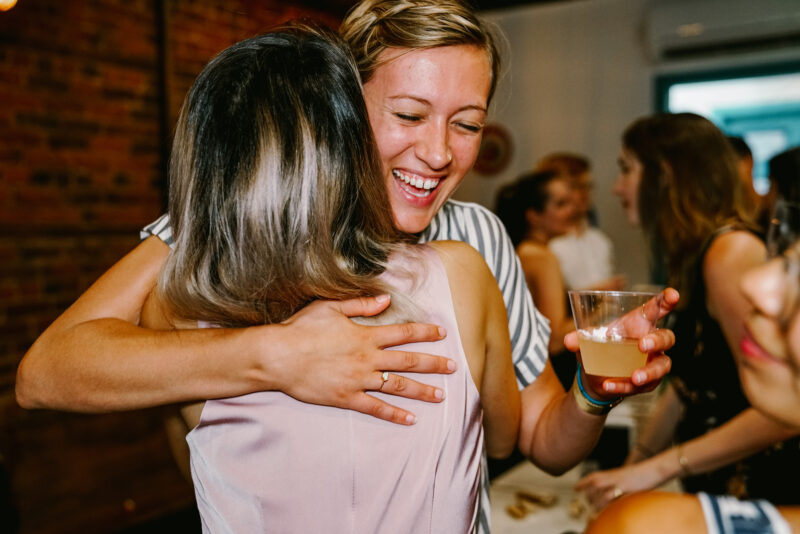 But what is a party without cake? A surprise cake. Yin's hands shook so hard one of the candles went out. I am a sympathetic crier, so when she tearily thanked us for getting 88 Cups of Tea to three years, I was close to ruining my makeup.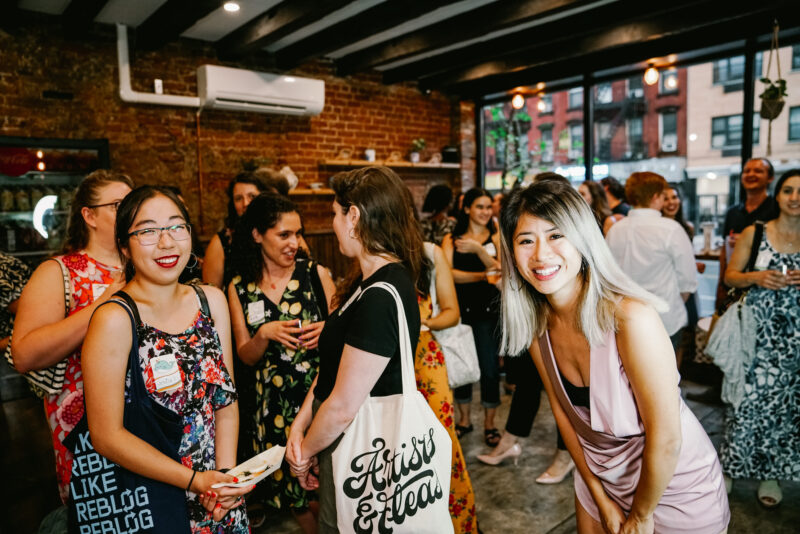 Then the wish was made, candles were blown and . . . let them eat cake! The party resumed in full force. It's crazy awesome that even though there was so much to eat, the conversations never wavered. And even though the sky was darkening on this weekday, people stayed. There were just so many friends to make and meet. There were even some all-stars to say hi to too, agents and editors and writers who have had episodes on the podcast.
And here's where I write a short love letter to my tribe for all they do. We braved long commutes for this party. We came from uptown, downtown, Long Island, Pennsylvania, Brooklyn, Queens, coming after work, after interviews, through the high heat (New York's humidity is no freaking joke). We brought gifts full of thought and talent. Eva gave a bedazzled bottle of wine, whose every individual sequin she had glued on herself. Melissa gave a bouquet of flowers. Sara gave a goodie bag full of pens and stickers of her own design. And some of us guests have been with 88 Cups of Tea for all three years (three!!!), which is just a whole other level of oh my god. Our presence made Yin so happy.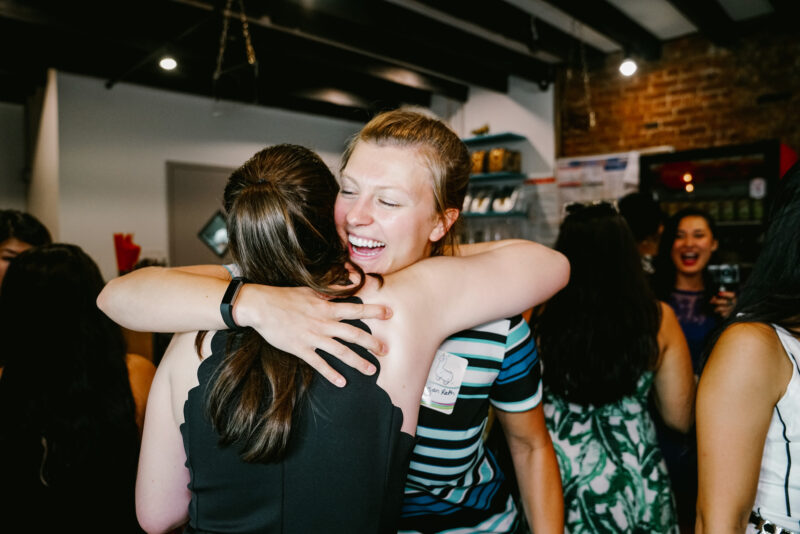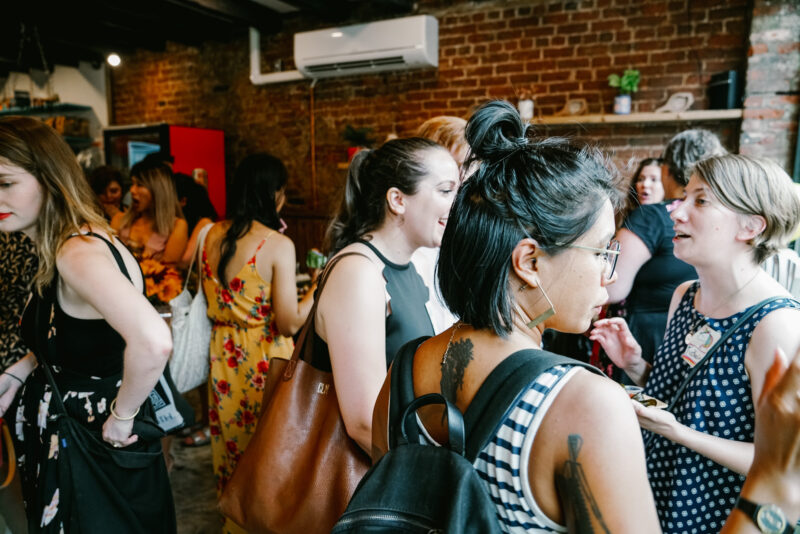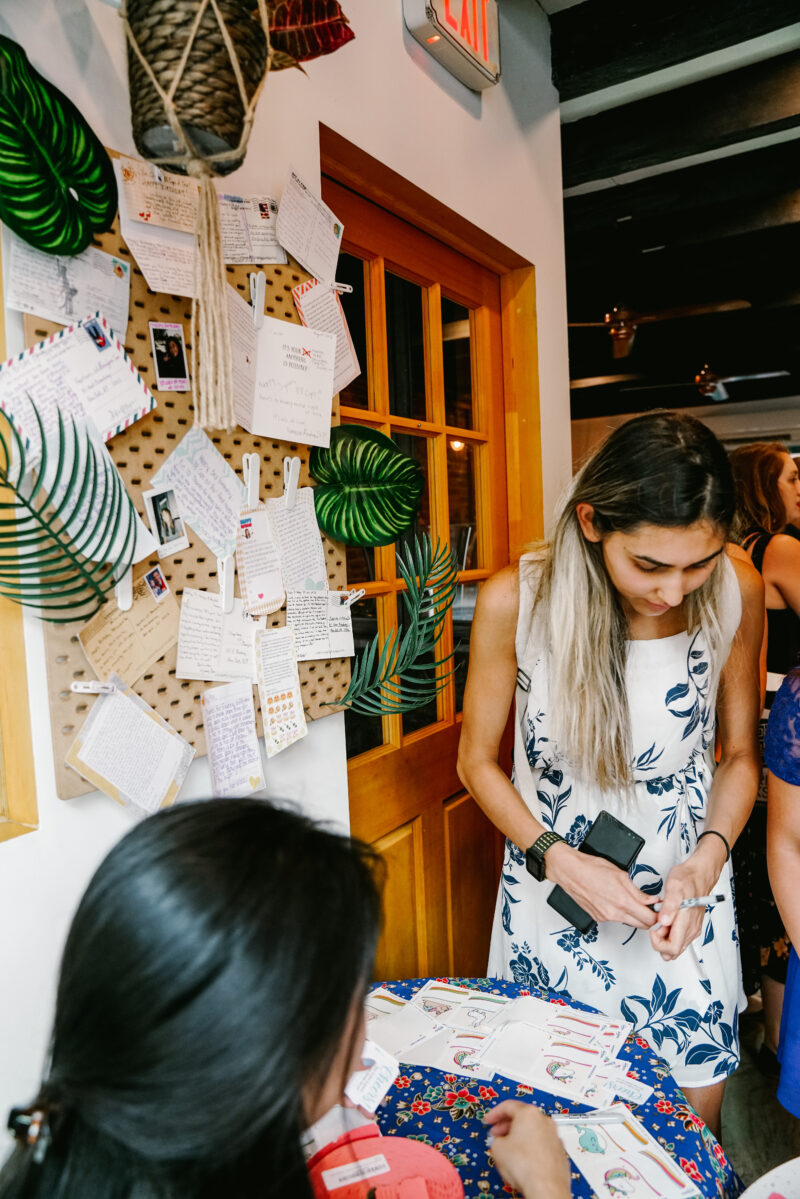 For my fellow Storytellers who couldn't make it—I felt like we were all here anyway, with our kind messages and photos displayed right above the welcome table. Everyone saw them as soon as they stepped in. We were mailing in trinkets of love from Hawaii, Washington, Florida, California, emailing from Australia and Mexico and . . . just everywhere. We really know how to make a woman weep (sorry not sorry Yin), with words like "Honestly, I don't think I would have had the guts to write stories as a career goal if it wasn't for this community" and "The entire community is the most beautiful thing I've experienced in a while."
Amen.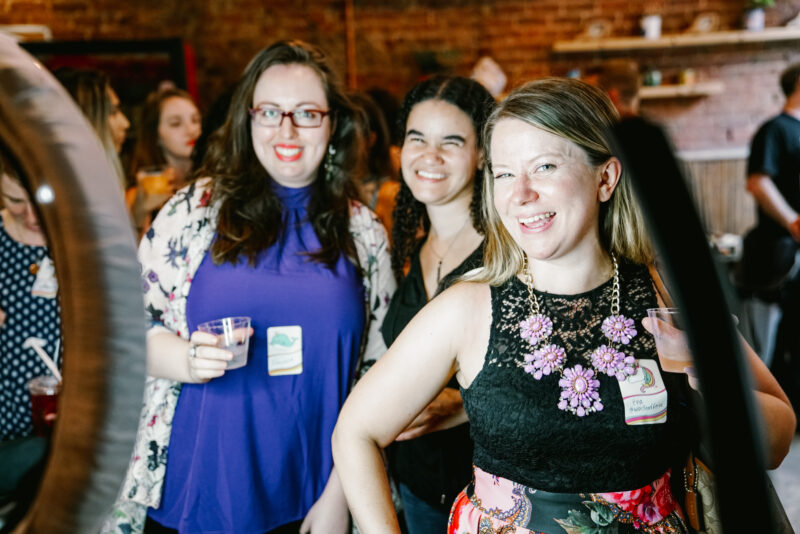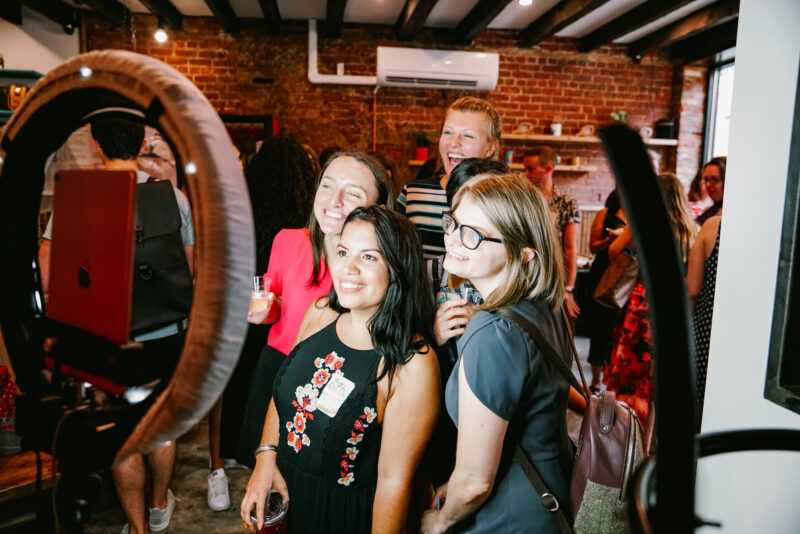 Besides the talking and eating (and crying), there were plenty more festivities. One of 88 Cups of Tea's champions, Overdrive's Libby, sponsored the wickedly fun photobooth. It was showered with lots of lovin' and attention as we danced for the camera, capturing it all in GIF form with a spread of light-up marquee letters spelling out storytellers in the background. We made kissy faces, did a whole bunch of butt-shaking, jumped up and down, waved our arms about, popped and locked our hips, and even twerked a bit. It was all so fun, we would pull in strangers to vogue with us, the photobooth a bonding moment for us all. Click here to live vicariously through the gifs! 
And no one is "too old" for board games with Scrivener, another one of 88 Cups of Tea's champions, sponsoring the party-essential Jenga; the addition of this classic game was brilliant. We gathered for some fierce competition, squealing together as the tower toppled again and again. But the best part of it was getting to know my tribe through the messages we inscribed on the Jenga blocks. In the regular world, it can take months, years, decades to get past someone's walls. But we're not regular. We're special. I'm so impressed by how much we trust each other; how open our hearts are. Everyone's messages resonated deeply with me. They made me feel seen. I'm so grateful for a community that also writes "to feel less lonely" or who also wants "to be a part of something more."
There was also a fun raffle! I love me some fun prizes and Yin delivered. In the spirit of us being storytellers, we had a chance to win a stack of books, and in the spirit of us being regular humans who like chocolate, we had a chance to win a grand prize of a tour and tasting around Raaka's factory in Brooklyn. I didn't inherit my mother's knack for winning (that woman will literally march up on stage to collect her prize without even bothering to check her ticket, so constant is she in always having the winning one) but there was no time for me to be bummed. We all got to take home a custom 88 Cups of Tea tote bag and PopSocket. I now use the tote bag so often that it's already (oops) stained. And as soon as I can splurge on an iPhone X, I am gracing that thing with the PopSocket (my currently shattered phone is not worthy). I plan to rep 88 Cups of Tea hard.
The party was meant to be only two hours long but Yin puts it best: it turned into a "four-hour love fest." As I said: the conversation never wavered, not even amidst all the dancing and music. Everyone was warm and welcoming and easy to talk to; I wish I could bottle up the essence of this community into a potion and mass produce it. That night reminded me of the importance of finding your tribe. Before the night, I didn't know anyone in the room personally. And yet—and yet. I knew that we all still stood by each other. That's why conversation came easily. We liked the same things: stories, and the stories behind them. But we, without even needing to meet in person, knew that we would like each other. It's amazing that Yin has built this community for us and been such a pillar in it.
Yin? You spent the whole night thanking us for showing up when it's been you who's shown up for us all throughout these three wonderful years. So thank you. We are so lucky to have you, to have each other, to have had these magical few hours that night to celebrate this bond that runs deep through us all.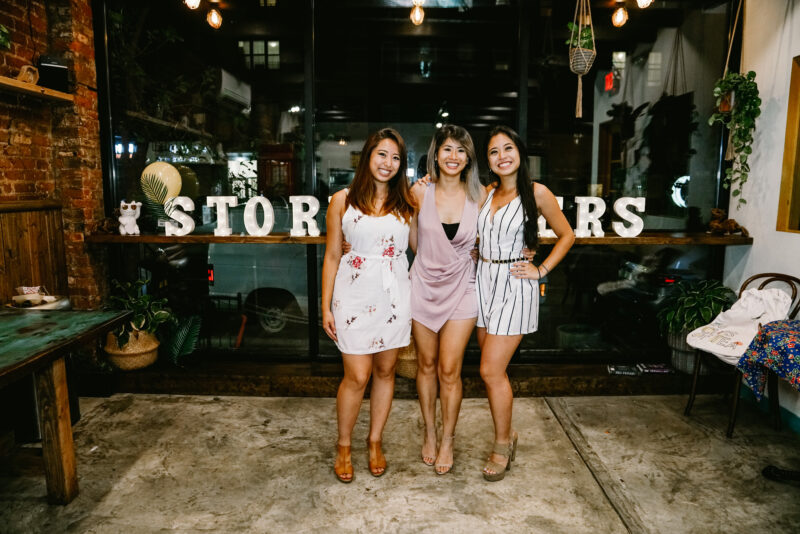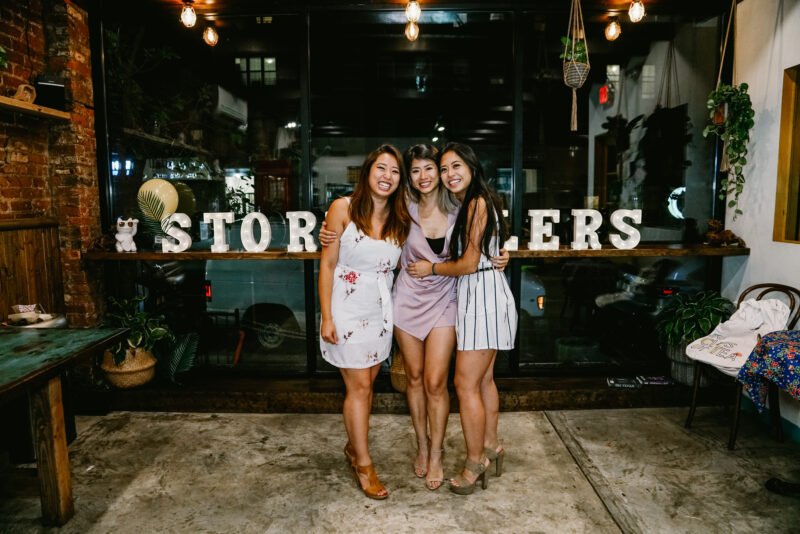 Olivia Liu is a college student at NYU, where she is studying English and creative writing. She is currently working on a young adult fantasy novel. When she's not a student, she works in publishing, and when she's not writing, you can find her getting into shenanigans across the world.
Photo credit: all photos by Melora Chang
Special thanks to Overdrive Libby and Scrivener