Stroll down memory lane with us as we recap the past five years; hear what our Storytellers have to say about 88 Cups of Tea; learn what the future holds for us and the initiatives we plan to roll out over the next five years. Be sure to catch this special 5-year anniversary episode! 
We're officially F-I-V-E years old. To celebrate this heart-tugging milestone, we hosted a Zoom party complete with a LIVE solo podcast recording paired with a slideshow presentation touching on the most memorable moments throughout the past five years that led us to where we are today, and we announced the plans for our future initiatives, and wrapped up the event with a highly competitive and giggle-worthy game of trivia with our Storytellers.
For this special episode, you'll hear the live recording from the first half of the event so you can join in on the playback of the festivities and stay in-the-know about the projection of our future.  
A special heartfelt thank you to the following Storytellers for taking the time to record videos that share how 88 Cups of Tea has been a part of their lives listed in order of appearance (listen to the audio version of their videos in this episode): 
Check out these highlights:
Discover Yin's inspiration for starting 88 Cups of Tea and building the community into what it is today (6:10)
Yin talks about what makes 88 Cups of Tea so special: our community of Storytellers (11:49)
Hear from a few of our very own storytellers as they share their experience being part of the 88 Cups of Tea community and what it means to them (13:24)
Yin shares the exciting news that 88 Cups of Tea is becoming a 501(c)(3) non-profit to better serve the community by launching new initiatives and increasing in-person and online engagement (28:43)
Get a peek into 88 Cups of Tea's four new pillars including a grownup camp getaway for Storytellers, community-led writers' workshops, a quarterly short-story online publication, and a coffee table book (31:00)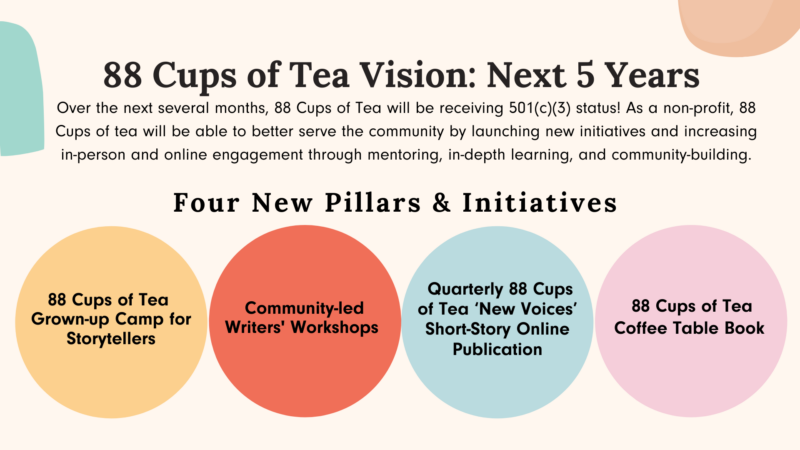 Become an 88 Cups of Tea Volunteer
We are thrilled to announce that we are now accepting volunteers to be a part of our team to help grow into the future pillars and initiatives we have planned! If you are interested in being a part of the behind-the-scenes operations, click on the button below to fill out the volunteer application.
The deadline for volunteer submissions is Monday, September 7th at 11:59 pm EST (8:59 pm PST)
Quality time with your favorite literary agent
To celebrate our momentous 5-year anniversary, we've teamed up with our community's top requested literary agents to gift three Storytellers within our 88 Cups of Tea community a chance to boost their storytelling journey with forward momentum. 
Holly Root is gifting a 20-minute phone call with  to answer your most burning questions about the industry
Suzie Townsend is gifting a critique of your query letter and the first five pages of your manuscript 
Joanna Volpe is gifting a 20-minute phone call along with a critique of your query letter and the first five pages of your manuscript
Hear directly from long-time Storytellers Kat Korpi and C.K. Kramer who won quality time with Joanna Volpe and Holly Root last year in celebration of our 4-year anniversary:
"I had the absolute honor to win last year's critique with Joanna Volpe and, let me tell you, it was life changing. It was my first time sharing things I'd written outside my CPs and I was a mess of nerves, sure that this was the moment I'd be found out as a fraud. However, Joanna was so kind and spoke with such intention about what I'd sent her that I quickly knew my fears were unfounded. She gave me a balance of encouragement and helpful critiques on both my query and first chapter, and she let me ask all my questions about life in publishing. This came at the perfect time in my writing journey, giving me the boost to keep working on my craft and pushing me to get extremely intentional about the type of stories I love to tell. It was a catalyst for me, and I've grown so much as a writer thanks to Yin connecting me with Joanna. For the people thinking about applying for this prize, I would say absolutely 10,000% to do it." -Kat Korpi
"I had the great honor of winning 15 minutes with Holly Root from 88 Cups of Tea's 4-year anniversary.  Wow, was that conversation eye-opening! First, I will say Holly is an incredible human being, and there's always something refreshing about connecting with another good-hearted soul.  I loved talking with her.  Holly is an industry legend and I could not believe that I won the chance to ask her about the industry.  Fifteen minutes is a long time, actually! Especially since I do not have access to folks in that industry myself.  I asked all my questions and had some time at the end to peek into her professional life. I've been to other writing conferences, and had 1:1 with other agents, and found that Holly's insights were direct, practical, and gave me a good sense as to industry best practices. She explained what to expect at certain parts of the publication process, and now I have confidence that I know what to ask other agents to ensure that they'll represent me well. Huge thanks to Yin and team for giving me this opportunity!" -C.K. Kramer
We hope these gifts will continue to bring value to your journeys in celebration of our 5-year anniversary and encourage all of our 88 Cups of Tea podcast listeners and article readers to submit. We will select those whose application forms resonate deeply with us or are deeply moved by, and those who we find would benefit most from these gifts to advance your careers.
The deadline to submit for your chance to win is Monday, August 31st at 11:59 PM EST (8:59 PM PST)!
Books and resources from this episode:
"The actual community of writers that has joined 88 Cups of Tea is such a special and supportive family and I truly feel that we all lift each other up and help our dreams come true."

Rebecca Villareal
"One thing that I especially love about your podcast is how you always seem to be able to get to the heart of things with any of those people that you are interviewing. You always seem to know just the right questions to ask or to follow up with.

Christiana Doucette
"For me as a librarian as well as a storyteller and writer, I really appreciate the community, the positivity, the staying present with the books that I'm supposed to be teaching out to these kids that I work with, all of it has been fantastic. This podcast and community is nothing short of miraculous."

Melissa Bobe