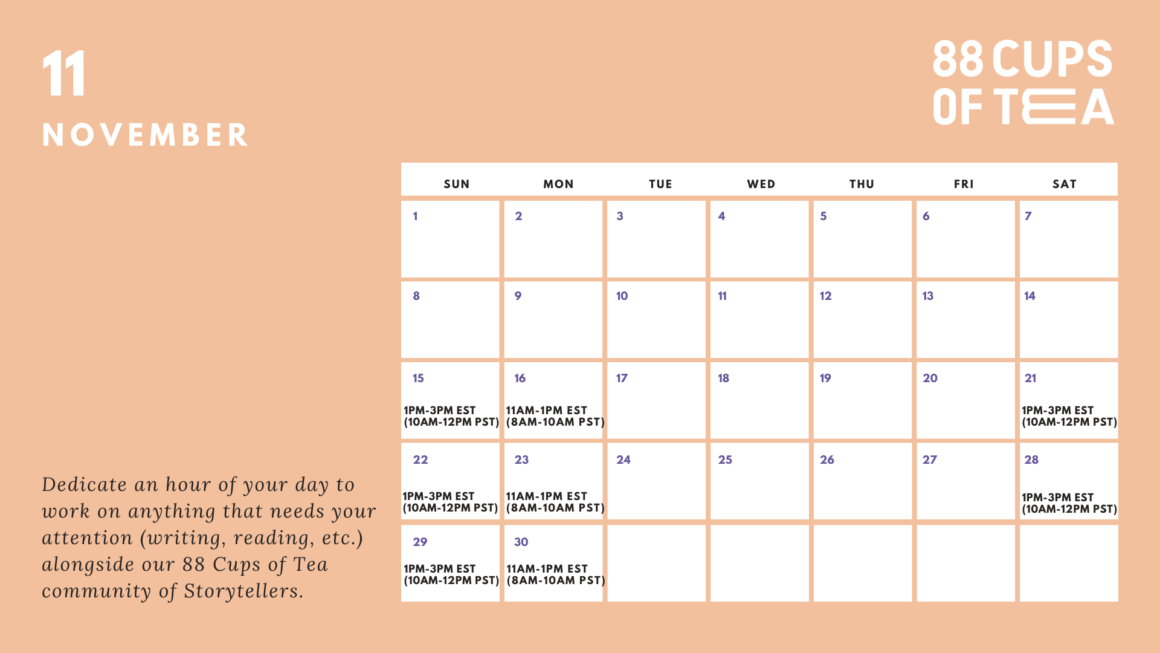 All members in our Patreon family are welcome to join 'Tea Time with Yin'. Spend an hour of your day working on anything that needs your attention (writing, reading, etc.) alongside our 88 Cups of Tea community of Storytellers. To join, click here to head over to join our Patreon family and head over to the pinned post to access the password-protected Zoom link.
View the calendar above for the start times of our Zoom gatherings.
Join me from the comfort of your own home. Be sure to have your laptop or notebook/pen ready so you can make the most out of the hour dedicated to you and what you need.
During Tea Time with Yin, we kick off our Zoom gathering with a check-in to share out-loud what each of us are hoping to accomplish by the end of the hour. Then we mute ourselves for the next 30 minutes working on creative projects that bring us joy, or we can finally take care of 'that thing' that's needed our attention for forever. You are welcome to chat with each other at any time in the chatbox. For the camera-shy Storytellers, you can turn off your cameras during this time.
I'll check in at the 30-minute mark where we share how our mid-way progress is going. Then we'll dive right back into our work for the final 30 minutes, then wrap up with the final check-in to share what we accomplished during that hour.
With love,
Yin