Plot.
It's not a lovely word on the tongue. And not a natural muscle for many writers, including me. Voice comes easy, atmosphere oozes. But plot? Ugh. So much work!
Here's the thing: You're not a lost cause as a writer if your plots don't plop out brilliant and fully formed. Plot has to be learned. Earned. I've come to think of it as a dance, one that involves several muscle groups and techniques that we have to master before the whole thing comes together with fluidity and grace. Like dance, practice helps.
That's been true for me anyway. And I've got a few techniques to share that may help you mast plot faster than I did. But first… a quick story. My own plot, if you will.
The Call to Action
My journey from serious to published author took almost 11 years. That's pretty normal, though I would have quit on the spot if anyone had warned me upfront. (I wasn't as persistent then as I am now.) I started out starry eyed and fingers flying. I wrote my first young adult manuscript in a few quick months, joined SCBWI, found a critique group, queried agents, submitted to a contest and… won!
Publication lay right around the corner, right?
Hahahaha.
First Set Back
That confidence-boosting award came with a reality check. The prize was a full manuscript critique by a respected children's editor. She loved the opening chapter. Then, she read the rest. Her letter was kind but the overall message: My energetic scenes and interesting characters had no clear direction.
I didn't know how to build a story.
New Resolve
After the disappointment wore off, I knew had learning to do. Cool. I like learning. I went for an MFA, listened carefully to all of the lectures, read a bunch of plot books, decided I hated the traditional Hero's Journey. (Too prescriptive, too white masculine, too Hollywood.) But I used those maps and beat sheets anyway because they were all I had.
>>> More Set Backs, More Attempts, Dark Night of Despair <<<
You know this part. More up and downs. More drafts and breakthrough. More learning, tough feedback, and rejection. Then finally, a yes. (Which, incidentally, brought more grueling feedback. My agent and editor are brutes and I love them for it.)
Over time, I began to see my stories' weaknesses more clearly. I got better at diagnosing problems on my own. I even discovered that the same plot problems that triggered tough feedback were behind my periodic writers' block. When my plots went off the rails, so did I. It's like some part of me, deep down, knew what my stories needed before I could name it.
A Method is Born
I eventually patched together a method that I call "writing with both pedals." If you've ever learned to balance the clutch and gas pedals on a standard car, this may make sense. (If not, picture me: seventeen years old, frustrated, stalling.)
The two main pedals of story are—you guessed them—character and plot. They're meant to be inextricable. The events of a story should stem from the protagonist's deepest desires and be complicated by their fears, misunderstandings, and secrets. (And other characters' fears, misunderstandings, and secrets.) When plot and character work in tandem, we care about what's happening and fly through the pages. Let go of one, and the story stalls out miserably.
As a newbie writer, my biggest challenge was working both pedals at once. I rode them more like a see-saw. My first manuscript (the "award-winning" one) was all character and intuition. Some scenes were really good, but that's all they were: scenes. While I had a general sense of character growth, the events didn't build into a coherent, unputdownable arc. I veered the other way with the next manuscript, charting out events I thought should happen and then dragging my poor characters through them like miserable, wooden puppets. The result was flat—even I was bored—and when I tried to amp things up, my characters turned shouty and melodramatic.
Pantsing and plotting weren't working. So, what next? A hybrid approach.
These days, I start with lots of prewriting to understand where my character begins and what change she must make. (I may write an opening chapter if the voice sings to me.) Then, I do some thinking about what it will take to create that internal change and brainstorm events that could provoke it. I pull out sticky notes, move them around until an arc appears and the logic starts to make sense. Then, I put it all in a spreadsheet that tracks the central action of each scene and the emotional shift it creates in the character.
While I draft, I go back and forth, reminding myself of the purpose of each scenes and adjusting my spreadsheet as I learn more about the story. For every scene, I ask:
What does my character want right now?
What is she willing to do to get it?
Will she succeed? (Probably not, or not in the way she hoped.)
How will the outcome of this scene affect what she wants and feels going into the next scene?
Spoiler: The Story Genius is Actually Genius
I wish The Story Genius had been published ages ago; it would've saved me lots of time. Lisa Cron has the smartest, least-rigid approach to plotting I've seen. Her first chapters push you to articulate what the story is really about and to nail down what she calls the "emotional third rail" of the story—the tension between the character's desire and a deep-seated misbelief that keeps getting in the way. As you brainstorm potential scenes, you ask "why does this matter?"—meaning, how does it relate to that emotional third rail?
While I love the approach, I find Cron's scene-planning cards cumbersome. I like to see the whole story in one place, move things around, color code, and track my progress, so I updated my "both pedals" spreadsheet with Cron's terminology. And now that's what I use, side-by-side with Scrivener. (Download template.)
A Few More Techniques
Remember how I talked about all of those muscles and techniques? The "both pedals" approach covers the main muscle group, but I have a few more plot-adjustment exercises that I pull out when I find myself falling into old, lazy habits.
Grab a story board template and sketch out stick figure scenes to make sure they aren't all two people talking or, worse, one character sitting alone.
Brainstorm active things your character can do and high-tension places/ways they can do them.
Force your character to do and say the things they resist; make them give up secrets sooner.
Clarify character motivation in every scene. Playing coy with foundational information isn't enticing, it's confusing. (My agent taught me that.)
Cut out scene warms ups, wrap ups, and the logistical stuff that happens between key actions. You hardly ever need them.
Cut, cut, cut until you're down to the scenes that count and the moments that drive your plot forward.
Reaching Cruise
Here's the thing: Plot is hard. I'm now 13 years into my journey, with one book published, another under contract, and more on the way. Do I have days when my stories fall flat? Of course! Keeping feet on both pedals takes discipline. But my instincts are a lot better these days, muscle memory kicks in more often, and on the days when those pedals hit the right balance? The ride is pretty damn fun.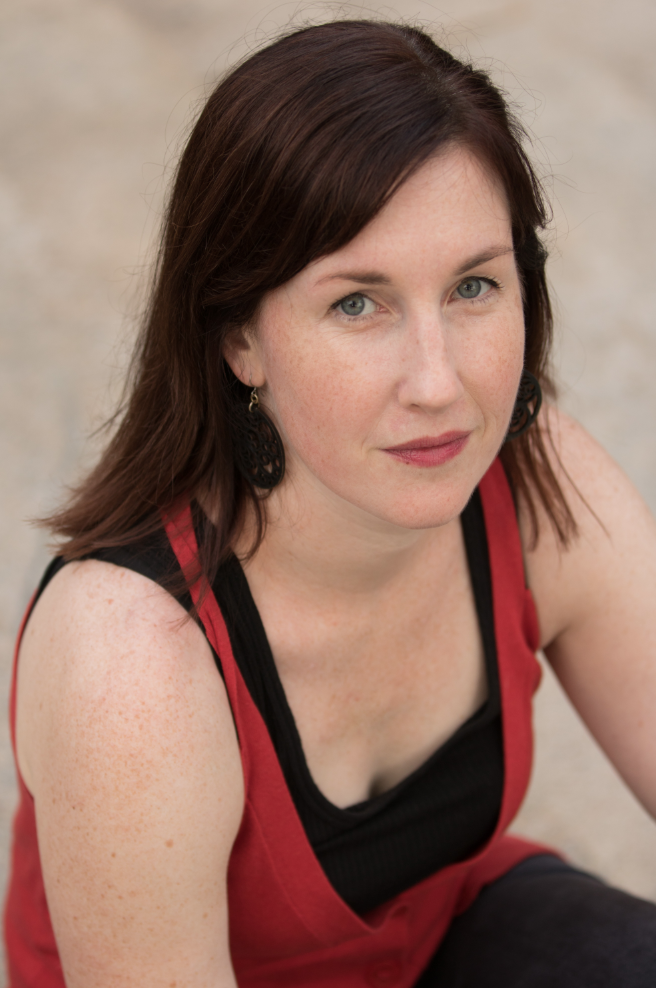 Katie Bayerl is the author of her young adult debut, A Psalm for Lost Girls, and was named a spring 2017 top pick by Amazon, Romantic Times, and Books-a-Million and a "can't miss" by Boston Magazine. Her second novel with Putnam/Penguin will be announced soon. Katie is the founding director of the Vermont College of Fine Arts Young Writers Network and teaches creative writing at Boston's GrubStreet. She drives stick shift by choice and dances salsa for fun. Find her on Instagram and, occasionally, Twitter.