When I was a child, I realized I was most at home on a 747, 30,000 feet in the air, halfway between New York and Puerto Rico. My father died when I was eight of ALS, so from then on I was raised by my mother. After Dad died, her drinking increased, and she would ship me down to her family in Puerto Rico each summer, so she could lose herself in the bottom of a bottle of Bacardi. The Davila family, her family, my family, saved my life. They took care of me, got my cavities filled, took me to amusement parks, and most importantly, told me stories.
I don't tell you this for pity. I tell you this with joy because it is why I identify as Latinx. I write the stories I write in order to reach people like me, who teeter between two worlds and cobble new ones from pieces of both. It's the reason I write at all.
I call myself a Gringa-Rican because I came from a big ole' white man and a tiny Puerto Rican woman, both architects, who built a family that would come to be a common type in the United States, though is wasn't all that common in the 1960s when I grew up. Back then, there were no books that I could see myself in. I was pale with blue eyes and all the privileges that came with that. But the salt water of the Caribbean ran through my blood, what Spanish I knew was spoken with a full-blown Puerto Rican accent, and my friends were shocked that my family had rice with dinner and not potatoes. I lived in the in-between, settled myself there. It wasn't comfortable, but it was all I had.
In adulthood, I came to embrace this country of in-between, to write the stories I wished I'd had when I was young, the ones where the protagonists are torn between two worlds, searching for a place to call home. As it turned out, I found that home on the page, in words typed on a screen. I took the stories my island family told me and brought them into the other half of my world. And, as in the case of my forthcoming novel Five Midnights, I took mainland characters, like Lupe, that looked like me and were bi-ethnic and put them in Puerto Rico, marrying the idealized love I have for the island with the realities of being of the island. Took the pain of addiction, gave that to my characters and forced them to deal with it, like Javier and his heroin, and Lupe's father and his alcoholism. I gave them love and friendship to help them deal with supernatural monsters like El Cuco, and real-life monsters, such as abuse. This process of building worlds that mirror is painful, but in them I hope that someone will see themselves and know that there are others who understand.
In this writer's life I've found that you don't have to be of mixed-ethnicity (though really, who isn't these days?) to comprehend otherness, to understand the struggle to belong. We've made much progress, and I'm excited to see so many beautiful books from marginalized writers of all kinds, telling stories that must be told, to generations who will hopefully grow up to see themselves in the pages of a book from their local library or bookstore.
So, tell the stories of the in-between, of falling through the cracks, of not fitting neatly in a box on a census.
And if you are in the industry, publish them.
Read them out loud to your children, or your nieces, or your friends.
Because we need the in-between in order to connect.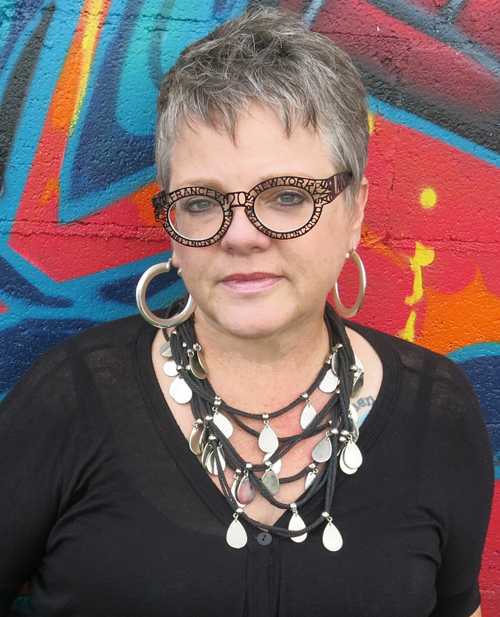 Ann Dávila Cardinal is a novelist and Director of Recruitment for Vermont College of Fine Arts, where she also earned her MFA in Writing. Her supernatural thriller, young adult novel Five Midnights, will be released by Tor Teen on June 4, 2019. Ann lives in Vermont where she bikes four seasons a year. Visit her online or on Twitter.