When I was in college, I stumbled across a book in the library titled The Teenage Liberation Handbook. It was written by a woman named Grace Llewellyn, and it introduced me to the concept of unschooling. Unschooling is an educational philosophy that often goes a step beyond homeschooling. It encourages families to go off the path of a formal and structured school curriculum and allow children to create their own programs of study by following their interests. Learning is self-directed and comes from real world experiences. I was intrigued, excited, and also a little terrified at the thought of doing something like this with my own education.
Growing up the child of immigrants, I was convinced that the only way I was going to get out of my community and out of poverty was through formal education. I had learned that a degree, with its accompanying diploma, was what would give me permission to do whatever else I wanted to do with my life. And maybe that was true. I don't know. As much as I loved to write, I never dreamed that I would someday write and publish books. Dreaming wasn't practical. I did the practical thing. I got good grades, earned scholarships, and went away to college.
Fast forward to sometime after 2006, the year my son was born. I now had three degrees. I'd earned a bachelor's degree in English and had no idea what to do with it. I went to grad school and earned a master's degree. I worked for a couple of years in the field my master's degree gave me permission to work in. And then I went back to school and got another master's degree. When I graduated, I got a job in the profession this second master's allowed me to work in.
Now I was a mom, reading to my son all the time and reveling in the wonderful world of books for children. I questioned why I never pursued working with children's books in some capacity. I loved them. My fondest memories of reading are from my childhood. I was a librarian and I loved to write. It made sense. I found myself thinking about whether to pursue an MFA because how else would I write a book? Or pursuing whatever credentials I would need to be a school librarian or more courses to work as a children's librarian in a public library. I enrolled in a post-master's certificate program in youth services librarianship.
This is the cycle I've been in for most of my adult life. It's hard to break out of the habit of seeking permission to do when it's all you know. It's hard to see other possibilities when our society has traditionally pushed a few limited tracks to being successful, especially for people from marginalized communities.
After three degrees plus forty graduate credit hours, I decided to veer off the beaten path. I started writing even though I felt like I had no clue what I was doing and surely I was doing it all wrong. I was tired of waiting for someone else to write the stories I wanted to read and the stories I wanted for my son and for future generations to read.
I sometimes think about The Teenage Liberation Handbook when I question my abilities or my credentials as a writer. There isn't a single writing course among the programs of study I completed. None of them taught me how to write. Sometimes, I don't think I could even tell you what my writing process is because it's not necessarily always the same. It isn't prescriptive. I learn by reading. One of my favorite books about writing is Maira Kalman's picture book titled Max Make a Million. You can learn a lot about writing from a dog who dreams of being a poet in Paris! I learn from questions my editor and readers ask. I learn by doing. I write. It took decades for me to find a place for unschooling in my own life, but here we are now.
That's not to say I don't sometimes feel a twinge of envy at those who have MFAs. And even for an introvert who prefers to write alone, I do sometimes feel like I'm out here writing without a life raft that connects me to safety. I don't have any of the experiences that being part of an MFA program provides. When I'm starting a new story, I turn to my own knowledge as a reader, my instincts, and my desire to write. Having the opportunity to earn an MFA, like having any kind of advanced degree, comes with a level of privilege and grants a level of privilege. But if you're stuck in that place of waiting for permission, I assure you that it isn't the only way. Forge a new path for yourself.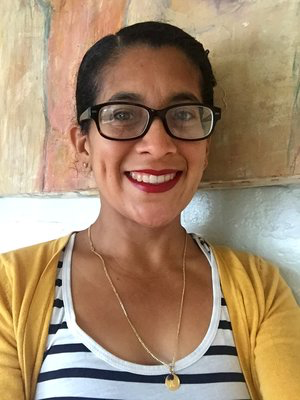 Celia C. Pérez is the award-winning author of the middle-grade novels The First Rule of Punk and Strange Birds: A Field Guide to Ruffling Feathers, published by Penguin Young Readers. She lives in Chicago with her family where, in addition to writing books about lovable weirdos and outsiders, she works as a librarian. The daughter of a Cuban father and a Mexican mother, she is originally from Miami, Florida, where roosters and peacocks really do wander the streets. Visit her online and follow her on Twitter.