Curious about Pitch Wars? How does becoming a Pitch Wars mentee help you with your writing career and your chances of landing a literary agent? How do you stand out and present yourself in the best light during the application process? We talk about all this and much more with Pitch Wars' Brenda Drake, Sarah Nicolas, Kellye Garrett, Adalyn Grace, Graci Kim, and Susan Lee.
What is Pitch Wars? As quoted from their site, Pitch Wars is a mentoring program where published/agented authors, editors, or industry interns choose one writer each to mentor. Mentors read the entire manuscript and offer suggestions on how to make the manuscript shine for the agent showcase. The mentor also helps edit their mentee's pitch for the contest and their query letter for submitting to agents. Mentors can participate solo or pair up and co-mentor.
During the agent showcase, each mentee is featured on a post that includes their pitch and the first page of their manuscript. Last year, they had nearly sixty agents participate in the showcase. Participating agents view the posts and make requests. With the help of Pitch Wars 2016, more than 50 authors were offered representation with many snagging book deals shortly after the contest.
Over the past seven years, Pitch Wars has changed many lives. Countless authors have been matched with agents and even gone on to book deals and successful careers. They have over 300 successes as of 2017. More importantly, Pitch Wars has grown the writing community to connect author with author, creating an atmosphere of camaraderie as writers go through all stages of revision and publishing.
Have a look below for each guest's bio, mentioned books and resources, timestamps from their interview portion, tweetable quotes, and their social media links.
---

BRENDA DRAKE
Brenda is the New York Times bestselling author of the Library Jumpers series, the Fated series, Thunderstruck, and Analiese Risings and the founder of Pitch Wars and #PitMad. When she's not writing or hanging out with her family, she haunts libraries, bookstores, and coffee shops, or reads someplace quiet and not at all exotic (much to her disappointment).
Listen to Brenda's 88 Cups of Tea episode right here!
Brenda's segment starts at 1:40.
Books and resources:
Children of Blood and Bone by Tomi Adeyemi (Listen to her 88 Cups of Tea episode right here!)
"The perfect mentee is one that's ready to work and open to critique and is pleasant to work with."

-Brenda Drake
"The whole thing about Pitch Wars is not only if you get into Pitch Wars, even though we all would want to do that, it's about the community surrounding Pitch Wars."

-Brenda Drake
Highlights:
Say "Hi" to Brenda:
Official
Twitter
Instagram
Facebook
---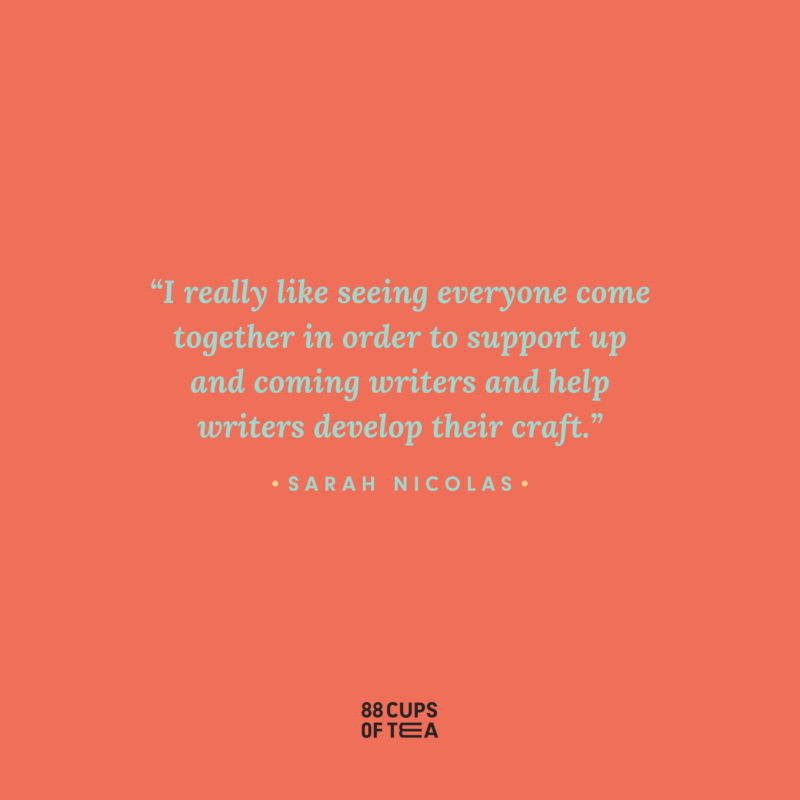 SARAH NICOLAS
Sarah is a recovering mechanical engineer, library event planner, and author who lives in Orlando with a 60-lb mutt who thinks he's a chihuahua. They are the current Managing Director for Pitch Wars and a contributor for Book Riot.
Sarah's segment starts at 13:12.
"I really like seeing everyone come together in order to support up and coming writers and help writers develop their craft."

-Sarah Nicolas
"The main point of Pitch Wars is the mentoring opportunity. There's always a lot of attention on the agent showcase because that's public and the mentoring mostly takes place in private, but that's really the huge advantage of Pitch Wars is the mentoring opportunity – the ability to receive personalized feedback and the love and the community."

-Sarah Nicolas
Highlights:
Say "Hi" to Sarah:
Official
Twitter
Instagram
Facebook
---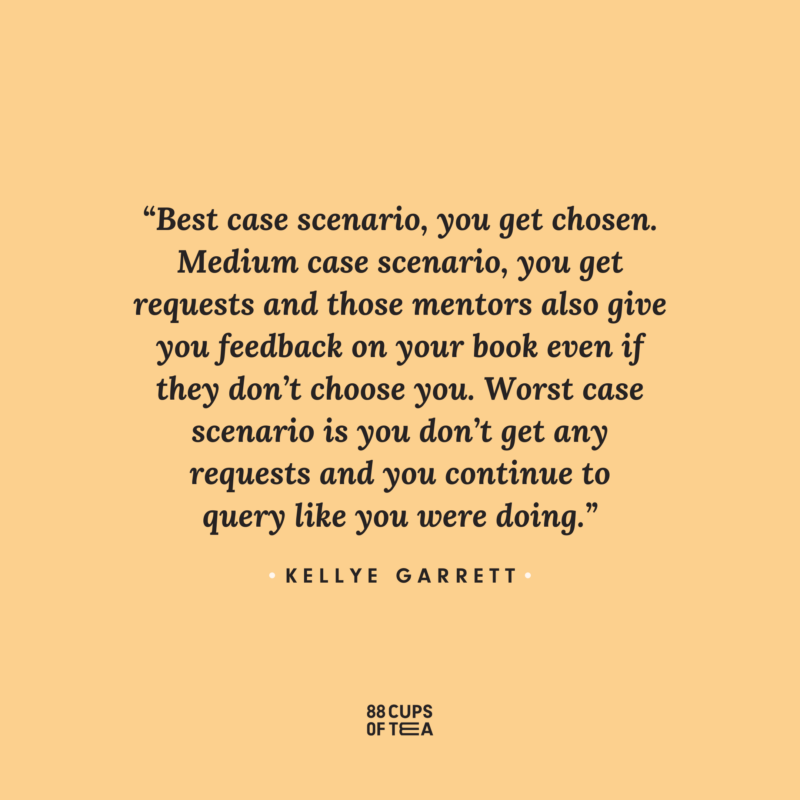 KELLYE GARRETT
Kellye's Hollywood Homicide, about a semi-famous, mega-broke black actress, won the Anthony, Agatha and Lefty for best first novel. It's also one of BookBub's "Top 100 Crime Novels of All Time." The second, Hollywood Ending, was featured on the TODAY show's Best Summer Reads of 2019 and was nominated for both Anthony and Lefty awards. She serves on Sisters in Crime's national board.
Kellye's segment starts at 33:19.
Books and resources:
Author Sarah Henning
Author Juliana Brandt
"Don't count yourself out. Don't talk yourself out of it. Best case scenario, you get chosen. Medium case scenario, you get requests and those mentors also give you feedback on your book even if they don't choose you. Worst case scenario is you don't get any requests and you continue to query like you were doing."

-Kellye Garrett
Highlights:
Say "Hi" to Kellye:
Official
Twitter
Instagram
Facebook 
---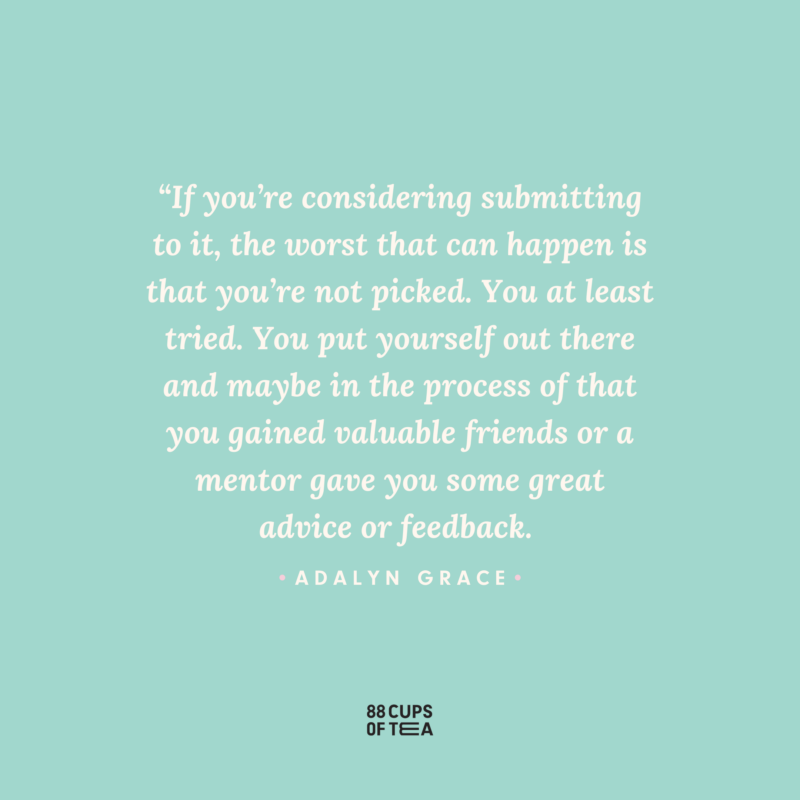 ADALYN GRACE
Adalyn graduated from Arizona State University when she was nineteen years old. She spent four years working in live theater and acted as the managing editor of a nonprofit newspaper before studying storytelling as an intern on Nickelodeon Animation's popular series The Legend of Korra. Adalyn splits time between San Diego and Arizona with her bossy cat and two dorky dogs, and spends her days writing full-time while trying to find the best burrito around. All the Stars and Teeth is her debut novel.
Adalyn's segment starts at 51:09
Books and resources:
Author Tomi Adeyemi (Listen to her 88 Cups of Tea episode right here!)
"If you're considering submitting to it, the worst that can happen is that you're not picked. You at least tried. You put yourself out there and maybe in the process of that, you gained valuable friends or a mentor gave you some great advice or feedback. There's nothing bad that can happen from this other than not being selected and that's just like querying agents."

-Adalyn Grace
Highlights:
Say "Hi" to Adalyn:
---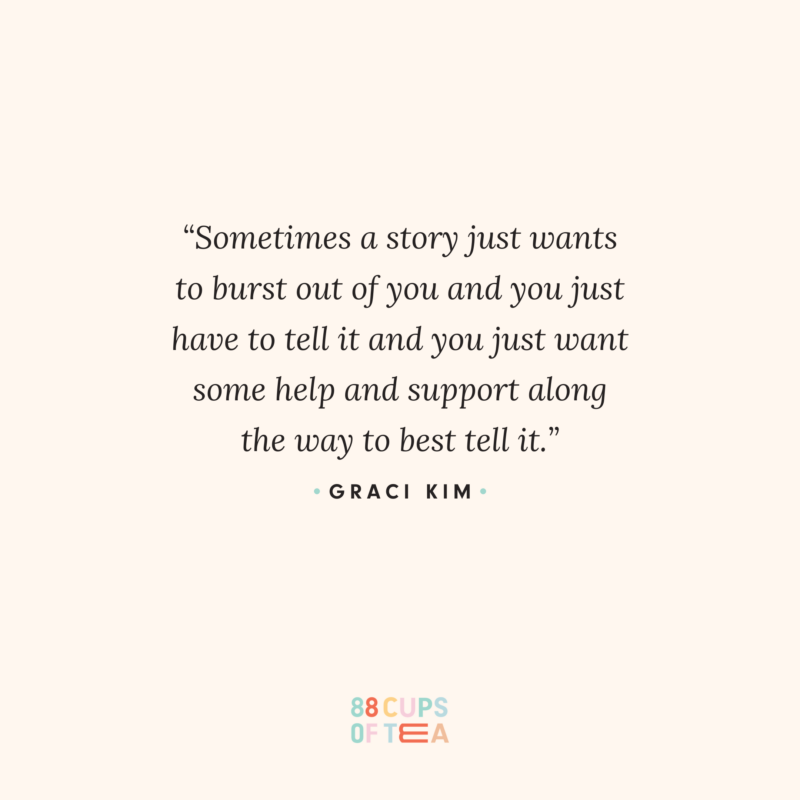 GRACI KIM
Graci is a Korean-Kiwi author of magic-infused books, currently based in New Zealand. Her Korean mythology-inspired debut MG novel, The Last Fallen Star, about Korean-American witches, sisterly love, and the search for belonging, will be published with Rick Riordan Presents, Disney-Hyperion, in Spring/Summer 2021. When she's not writing, Graci is a diplomat for NZ's foreign service. She is also a wife and mum, is really good at eating all the things, and believes most of our daily problems can be solved by hugging a dog (or ideally, many). Graci is represented by Carrie Pestritto at Laura Dail Literary Agency.
Graci's segment starts at 1:07:42
Books and resources:
"Sometimes you don't know what you want until you see it. So we just love to hear from people who feel like they have a burning story to tell."

-Graci Kim
"Sometimes a story just wants to burst out of you and you just have to tell it and you just want some help and support along the way to best tell it."

-Graci Kim
Highlights:
Say "Hi" to Graci:
---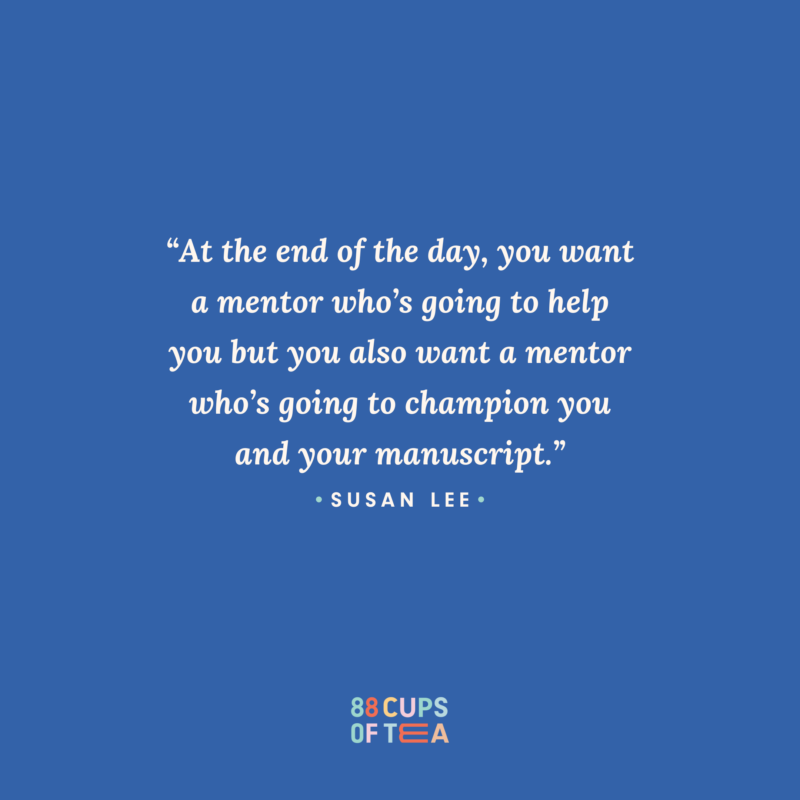 SUSAN LEE
Susan has built a career as a Human Resources executive at successful startups such as Spotify, Warby Parker, and SeatGeek. Her biggest job takeaway: we are all, for the most part, ridiculous. And she channels this into her writing of light-hearted, quirky novels about the oftentimes hilarious human condition. You can find Susan around town enjoying bottomless brunch, catching any show with her favorite local drag queen, Marti Gould Cummings, or trying to snag cheap tickets for Broadway previews. Susan is a 2018 PitchWars alum, a 2019 Romance Writers of America Golden Heart finalist, and a lifetime Shangela stan.
Susan's segment starts at 1:22:05
Books and resources:
Author Gloria Chao (Listen to her episode on 88 Cups of Tea right here!)
"At the end of the day, you want a mentor who's going to help you but you also want a mentor who's going to champion you and your manuscript."

-Susan Lee
Highlights:
Say "Hi" to Susan:
---
We Love Our 88 Cups of Tea Patreon Family!
If you've ever wondered how to best support the content you love to consume, signing up to join our Patreon Family is the most helpful way!
Over the years, we've earned the reputation of adding more positivity and hope into people's lives, boosting the morale of our listeners and readers. We've become the go-to space for storytellers seeking camaraderie and inspiration. Because of you, our growing community has allowed us the platform to amplify the voices and stories of various storytellers from all walks of life to embolden you with your creative pursuits.
Thank you for considering how much impact your contribution can make, and thank you most sincerely for caring about 88 Cups of Tea being a part of your life and fellow storyteller's lives.