Curious to learn how to inspire creativity during challenging times? Or ways to manage strict deadlines while still practicing self-care? We talk about it all and more with Cassandra Clare.
Cassandra is the award-winning author of City of Bones – the first book of her Mortal Instruments series – The Infernal Devices series, The Dark Artifices series, The Magisterium Series and many more novels.
Cassandra and I kick off our conversation chatting about her recent travels around Southeast Asia, and this will be a very fun part of the conversation for those of you who love to travel or would love to travel one day in the near future. We continue to talk about her storytelling journey and touch on ways to bring in income while writing your novel. We dive into the inspiration behind her first novel City of Bones and discuss the emotional side of writing. Towards the end, we talk about querying, the importance of reading through your contracts and being aware of your legal rights, and how to best manage stressful deadlines while still taking care of yourself. Later, she shares how to prevent yourself from giving up on your career when you're feeling down, and she shares her favorite writing technique that'll help you reach your writing goals. 
Books and resources:
Check out these highlights:
Cassandra chats all about her recent travels around Southeast Asia (0:15)
She shares her earliest memory of storytelling that got her hooked on writing and inspired her career (14:15)
The steps Cassandra took to becoming a best-selling author (18:25)
How freelance copy editing can help bring in extra income while you pursue your creative pursuits (29:35)
The inspiration behind Cassandra's first novel City of Bones (34:00)
She talks about the emotional side of writing and how to find the joy of creativity when faced with sadness and pain (36:30)
Tips on crafting the perfect query letter to get literary agents' attentions (44:40)
The true value of supportive friendships between female writers (47:15)
Why it's crucial to read through your contracts and be aware of your legal rights when you are publishing your novel (52:00)
How to balance strict deadlines with self-care (55:12)
What a production schedule is and how it can help you extend deadlines and put your story first (57:30)
The writing sprint strategy you'll want to know to help you reach your writing goals (1:00:50)
"I think when you want something really badly, you make it happen."

Cassandra Clare
"To write your first novel, you are teaching yourself to write a novel."

Cassandra clare
"You write what you love; you write what you feel like writing and what's important to you, and, in terms of what I've observed over the years, those are the success stories."

cassandra clare
"The best advice I've ever received is when you are done with your book, read it out loud to someone. When you read the book out loud, you will hear all the stuff in the book that sounds funny or off that you can't see on the page because you've seen it so many times."

cassandra clare
Say "Hi" to Cassandra Clare: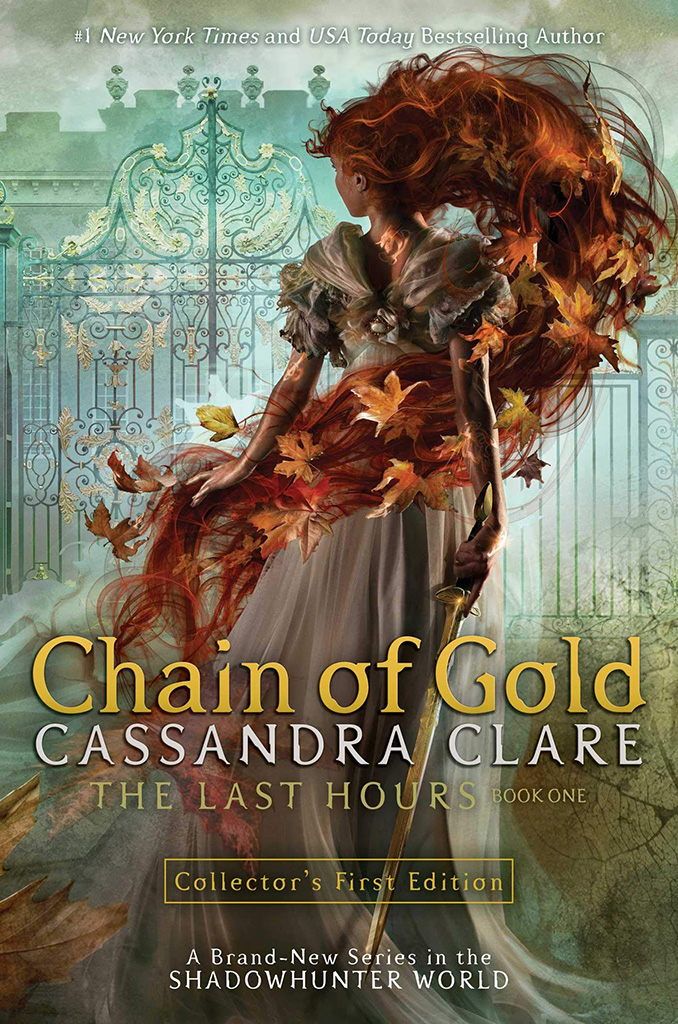 From #1 New York Times and USA TODAY bestselling author Cassandra Clare comes the first novel in a brand-new trilogy where evil hides in plain sight and love cuts deeper than any blade. Chain of Gold is a Shadowhunters novel.
Cordelia Carstairs is a Shadowhunter, a warrior trained since childhood to battle demons. When her father is accused of a terrible crime, she and her brother travel to London in hopes of preventing the family's ruin. Cordelia's mother wants to marry her off, but Cordelia is determined to be a hero rather than a bride. Soon Cordelia encounters childhood friends James and Lucie Herondale and is drawn into their world of glittering ballrooms, secret assignations, and supernatural salons, where vampires and warlocks mingle with mermaids and magicians. All the while, she must hide her secret love for James, who is sworn to marry someone else.
But Cordelia's new life is blown apart when a shocking series of demon attacks devastate London. These monsters are nothing like those Shadowhunters have fought before—these demons walk in daylight, strike down the unwary with incurable poison, and seem impossible to kill. London is immediately quarantined. Trapped in the city, Cordelia and her friends discover that their own connection to a dark legacy has gifted them with incredible powers—and forced a brutal choice that will reveal the true cruel price of being a hero.
Learn more about Cassandra Clare:
Cassandra Clare was born to American parents in Tehran, Iran and spent much of her childhood traveling the world with her family, including one trek through the Himalayas as a toddler where she spent a month living in her father's backpack. She lived in France, England and Switzerland before she was ten years old. Since her family moved around so much she found familiarity in books and went everywhere with a book under her arm.  She started working on her YA novel, City of Bones, the first book of the Mortal Instruments, in 2004, inspired by the urban landscape of Manhattan, her favorite city.  The Mortal Instruments went on to be New York Times, Wall Street Journal and USA Today bestsellers, as did the subsequent Shadowhunters series, The Infernal Devices and The Dark Artifices. Lady Midnight, the first of the Dark Artifices, spent over a year on the New York Times bestseller list. She also co-authored the bestselling Magisterium series with Holly Black. Cassandra lives in Western Massachusetts with her husband and three cats.