Curious about juggling multiple creative pursuits around a busy schedule? How about tangible actions you can take to shift into a productive mindset? We talk about it all and more with Christine Riccio.
Christine is a Youtuber and New York Times Best Selling author, Her Youtube channel PolandbananasBOOKS has nearly half a million book-loving subscribers. She makes comedic book reviews, vlogs, sketches, and writing videos chronicling the creation of her own novel, Again, But Better. She's also one of the three YouTubers behind BOOKSPLOSION– Youtube's longest-running book club!
In our conversation, we talk about Christine's journey to becoming a best selling author and one of the most influential booktubers. She gives us a behind-the-scenes look into how she started her YouTube career, her writing and filming process, and how she works around her busy schedule. Further into our conversation, we talk about tangible actions you can take to shift into a writing mindset and the importance of self-care. She shares advice on growing your platform and reaching your writing goals, and we discuss her novel Again, but Better.
Over on our Instagram, Christine is taking over our Instagram stories. Make sure to head over to instagram.com/88cupsoftea to check it out!
Books and resources:
Harry Potter by J.K. Rowling
The BFG, Charlie and the Great Glass Elevator, Charlie and the Chocolate Factory, The Witches, and Fantastic Mister Fox by Roald Dahl 
The Da Vinci Code by Dan Brown
Twilight by Stephenie Meyer
Podcasts MuggleCast and PotterCast 
City of Bones: The Mortal Instruments by Cassandra Clare 
The Hunger Games by Suzanne Collins
Fangirl by Rainbow Rowell 
Just One Day by Gayle Forman
Lost created by J.J. Abrams
The Mindy Project created by Mindy Kaling
---
We Love Our 88 Cups of Tea Patreon Family!
If you've ever wondered how to best support the content you love to consume, signing up to join our Patreon Family is the most helpful way!
Over the years, we've earned the reputation of adding more positivity and hope into people's lives, boosting the morale of our listeners and readers. We've become the go-to space for storytellers seeking camaraderie and inspiration. Because of you, our growing community has allowed us the platform to amplify the voices and stories of various storytellers from all walks of life to embolden you with your creative pursuits.
Thank you for considering how much impact your contribution can make, and thank you most sincerely for caring about 88 Cups of Tea being a part of your life and fellow storyteller's lives.
---
Check out these highlights:
Christine shares how she discovered her love for storytelling and YA
She walks us through the steps she took to start her YouTube channel and grow it into the success it is today
How she turned YouTube into a full-time career
She shares how she balances her busy schedule of filming and writing and gives us a peek into her work schedule
We learn how Christine found the inspiration to begin her writing career
Tips on transitioning into a writer's mindset
The importance of giving yourself permission to take care of yourself and practice self-care
How to cope with negative comments
She answers some of our very own listener questions:

"How did having youtube for so many years influenced your process when you started to write Again, but Better?"
"What advice do you have for others in the booktube or bookblog or bookgram community who want to grow their platforms and work more with publishers?"

Steps you can take to accomplish your writing goals
"It brings me so much joy just creating a book and painting a story and being in a new world and escaping reality to be with these different characters."

-Christine Riccio
"Have fun with whatever you're doing and do stuff that you love."

-Christine Riccio
"You can do it, it just takes a little bit of discomfort. You just have to push yourself a little bit and all these things will come for you."

-Christine Riccio
Say "Hi" to Christine Riccio:
Official
YouTube
Instagram
Twitter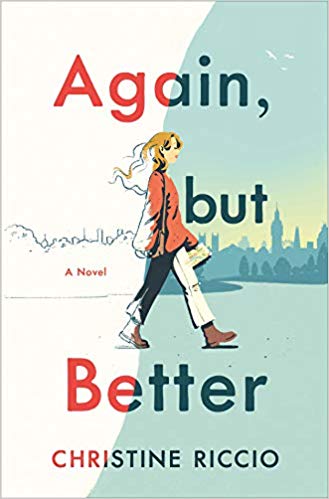 From one of the most followed booktubers today, comes Again, but Better, a story about second chances, discovering yourself, and being brave enough to try again.
Shane has been doing college all wrong. Pre-med, stellar grades, and happy parents…sounds ideal — but Shane's made zero friends, goes home every weekend, and romance…what's that?
Her life has been dorm, dining hall, class, repeat. Time's a ticking, and she needs a change — there's nothing like moving to a new country to really mix things up. Shane signs up for a semester abroad in London. She's going to right all her college mistakes: make friends, pursue boys, and find adventure!
Easier said than done. She is soon faced with the complicated realities of living outside her bubble, and when self-doubt sneaks in, her new life starts to fall apart.
Shane comes to find that, with the right amount of courage and determination one can conquer anything. Throw in some fate and a touch of magic – the possibilities are endless.
Learn more about Christine Riccio
Christine Riccio has been on a quest to encourage more humans to read since the third grade. No one really listened until she started making videos about books on Youtube in 2010. Now her channel PolandbananasBOOKS has over 390,000 book-loving subscribers. She makes comedic book reviews, vlogs, sketches, and writing videos chronicling the creation of her own novel, Again, But Better. She's also one of the three YouTubers behind BOOKSPLOSION- Toutube's longest running book club. These past four years Christine's been collaborating with publishing companies and authors to help promote new releases, and traveling to cons across the United States to speak on book related panels to further spread the reading love. Originally from New Jersey, Christine graduated from Boston University in 2012 with a degree in Film and TV and now lives in Los Angeles, CA.