Have you ever wondered what goes into building strong and vibrant fantasy worlds? How to add moments of warmth and humor when writing about darker topics? How about creating space for self-care through your writing? We talk about this and so much more with Natasha Ngan.
Natasha is a young adult fiction author known for her novels The Elites, The Memory Keepers, and her most recent novel, Girls of Paper and Fire, that was published in the Fall of 2018 by Jimmy Patterson/Little Brown in the US. and Hodder & Stoughton in the UK. She was also the co-owner of the fashion, travel, and lifestyle blog Girl in the Lens.
In our conversation with Natasha, we discuss Malaysian culture and how it influences her writing style, the inspiration behind her new novel Girls of Paper and Fire, how she explores self-healing through storytelling, and her expansive and organic world-building process. She also answers listener questions about her research and querying process, crafting strong secondary characters, and interjecting humor around serious topics in her stories. 
Books and resources:
Thrift Shop and Same Love by Macklemore
Victoria Schwab (Listen to Victoria's 88 Cups of Tea episode here!)
Monthly YA Subscription Box – OwlCrate and Fairy Loot
The Poppy War by R.F. Kaung (Listen to R.F.'s 88 Cups of Tea episode here!)
Check out these highlights:
Natasha dives into how she intertwines the beautiful Malaysian culture into her fantasy worlds (25:00)
She explains how embracing and accepting herself sparked the inspiration for Girls of Paper and Fire (30:05)
How Natasha authentically weaves in themes of sexuality in her writing (32:30)
How personal growth can help you add new perspectives to your stories (38:25)
The importance of spending time in your story's world to craft vivid and expansive worlds (47:55)
Why research is crucial when writing about unfamiliar topics in your stories (48:47)
How writing about difficult and personal traumatic instances can help you find strength and healing (50:58)
Natasha also answers a few questions submitted in our Patreon page:

What kind of research did Natasha do for Girls of Paper and Fire and is the Hidden Palace anything like the forbidden city in Bejing? And where can we find a map of the world in the novel? (01:02:35)
What are some steps you take to ensure that your secondary characters are sufficiently rounded? (01:08:25)
I am struggling to balance serious and difficult subjects with warmer character moments and even humor. I can't help but feel like it's jarring. I'm wondering if Natasha has any advice? (01:11:20)
I am curious about whether writing a book with such heavy themes and rough scenes require more self-care than usual during the writing process? (01:16:20)
What was Natasha's query process like? (01:20:40)
"Just because something ended, it doesn't take away from how special and incredible that thing was and how much that shaped you."

Natasha Ngan
"The best stories are the ones we tell from the heart."

Natasha Ngan
"What you want to do when you are creating a world is really be able to feel it breathing and have those details and history there."

Natasha Ngan
"The first draft is just for you, and it's just you finding out what is important to you about this story."

Natasha Ngan
"Just keep going, your stories are important."

Natasha Ngan
Say 'Hi!' to Natasha
Official
Twitter
Instagram
Facebook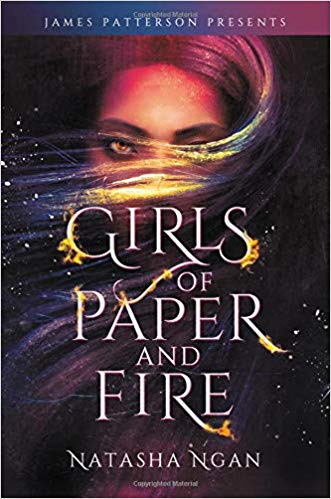 Each year, eight beautiful girls are chosen as Paper Girls to serve the king. It's the highest honor they could hope for…and the most cruel.
But this year, there's a ninth girl. And instead of paper, she's made of fire.
In this lush fantasy, Lei is a member of the Paper caste, the lowest and most oppressed class in Ikhara. She lives in a remote village with her father, where the decade-old trauma of watching her mother snatched by royal guards still haunts her. Now, the guards are back, and this time it's Lei they're after–the girl whose golden eyes have piqued the king's interest.
Over weeks of training in the opulent but stifling palace, Lei and eight other girls learn the skills and charm that befit being a king's consort. But Lei isn't content to watch her fate consume her. Instead, she does the unthinkable–she falls in love. Her forbidden romance becomes enmeshed with an explosive plot that threatens the very foundation of Ikhara, and Lei, still the wide-eyed country girl at heart, must decide just how far she's willing to go for justice and revenge.
Presented by James Patterson, Natasha Ngan's lyrical, searing, visceral fantasy, Girls of Paper and Fire, will remind us how precious freedom is–and the price we must pay to achieve it.
Learn more about Natasha Ngan
Natasha Ngan is part young-adult author, part yoga-teacher, part habitual nap-taker. She grew up between Malaysia and the UK, speaking Chinese with her mother mainly as a way to talk about people without them understanding. She studied Geography at the University of Cambridge and later worked as a fashion blogger, social media consultant and freelance writer. Natasha recently moved to Paris, where she likes to imagine she drifts stylishly from brasserie to brasserie, notepad in one hand and wineglass in the other, but in reality, she mostly spends her time lost on the metro and offending locals with her French.