"You can reach your dreams if you are willing to sacrifice and put in the hard work and the effort."

-Sarah J. Maas
I've been so excited and antsy about sharing today's episode with you! Sarah J. Maas is the #1 New York Times and international bestselling author of the Throne of Glass series and A Court of Thorns and Roses series. Fun fact: Sarah was just 16 years old when she wrote the first book in the Throne of Glass series, and she's built an empire of extremely passionate and loyal fans. Deadline recently announced that the "Throne of Glass" series is being developed into an epic fantasy adventure TV series for Hulu. 
In Sarah's episode, we talk about everything from growing up in New York City with probably the most movie-worthy thing that can happen to any high school kid, to living out in the suburbs of Pennsylvania where she currently writes full-time. We, of course, cover the inspiration behind her book series and why it's so important for Sarah to showcase strong female characters.
For fans of Sarah, you are going to LOVE her episode. For craft-focused listeners who might be learning about Sarah for the first time through this episode, you'll have so much fun getting to know Sarah's personality and she shares really inspiring and helpful advice about breaking out of a writing rut, creating dialogues, and treating your writing like a muscle.
Those of you who emailed me about questioning your identity as a writer and feeling like you're unworthy of the title, hang tight till the end of our discussion, this episode is especially for you.
PS. Got some awesome takeaways from Sarah's episode and would love to show your appreciation? The best way would be to sign up and become our Patron! We dedicate a ton of heart and soul into fostering a space that encourages learning, creativity, growth, and community. The most sincerest thank you for your love and support.
Sarah's Recommended Books & Resources:
Sabriel by Garth Nix
The Hero and the Crown By Robin Mickinely
The Lord of the Rings by J.R.R. Tolkien
Shannara series by Terry Brooks
The Golden Compass by Phillip Pullman
The Last Unicorn by Peter S. Beagle
---
We Love Our 88 Cups of Tea Sponsors
Gotham Writers believes that everyone has a story to tell, and that anyone can learn to write better through practice and learning the craft. They demystify the writing process and give their students a safe and structured environment that encourages them to keep writing and keep expanding their ability. It's not a magic formula, but it's the best path to becoming a better writer, whether you're new to this or an old pro.
---
What You'll Learn From This Episode:
How Sarah creates stories that showcase heroines and female strength
Writing is a muscle and how to regularly have it exercised
How Sarah's religious studies minor helps her build and evolve her fantasy worlds
Creating dialogues with yourself and others to inspire your writing
Sarah's how-to advice on breaking out of a writing rut
Why setting small attainable goals in your control will make you more productive
How Sarah uses character names as a gateway to flesh out character building
Surround yourself with a support system and network that help you reach your goals
Living in the moment and being at peace with where you're at in life 
"Every scar on me, every line, it's a story written on my body of a life lived."

-Sarah J. Maas
"Writing is a muscle."

-Sarah J. Maas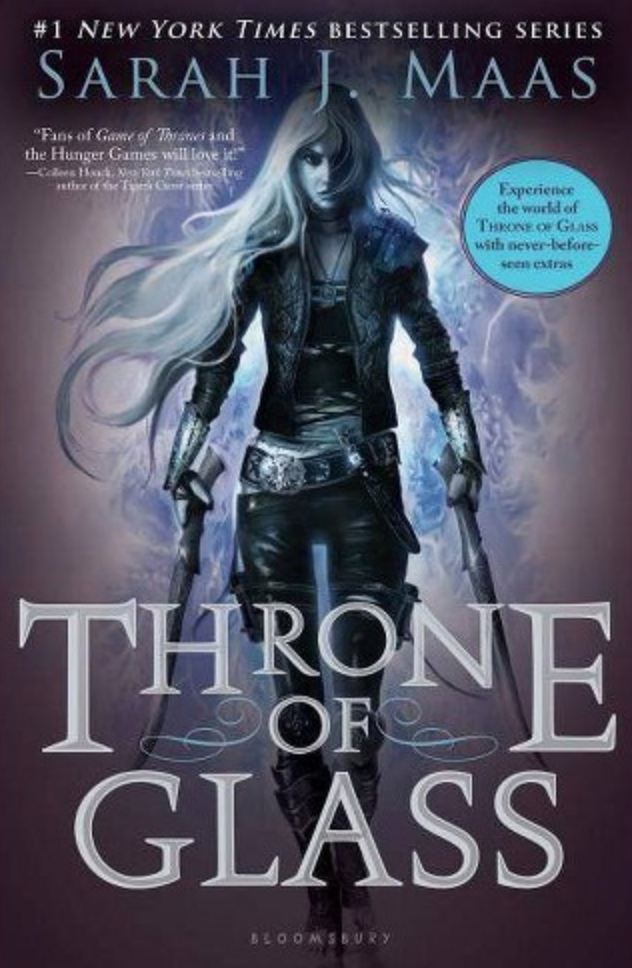 Kingdoms collide in Sarah J. Maas's epic fifth installment in the New York Times bestselling Throne of Glass series.
The long path to the throne has only just begun for Aelin Galathynius. Loyalties have been broken and bought, friends have been lost and gained, and those who possess magic find themselves at odds with those who don't.
With her heart sworn to the warrior-prince by her side, and her fealty pledged to the people she is determined to save, Aelin will delve into the depths of her power to protect those she loves. But as monsters emerge from the horrors of the past, and dark forces become poised to claim her world, the only chance for salvation will lie in a desperate quest that may mark the end of everything Aelin holds dear.
In this breathtaking fifth installment of the New York Times bestselling Throne of Glass series, Aelin will have to choose what — and who — to sacrifice if she's to keep the world of Erilea from breaking apart.
Learn More About Sarah J. Maas
Sarah J. Maas is the #1 New York Times bestselling author of the Throne of Glass series and A Court of Thorns and Roses series, as well as a USA Today and international bestselling author. Sarah wrote the first incarnation of the Throne of Glass series when she was just sixteen, and it has now sold in thirty-five languages. A New York native, Sarah currently lives in Pennsylvania with her husband and dog. Empire of Storms, the fifth Throne of Glass novel, is available now.
She graduated Magna Cum Laude from Hamilton College in 2008 with a degree in Creative Writing and a minor in Religious Studies.
"I can do that. I will do that. Watch me do that."

-Sarah J. Maas
"You're a writer if you write. And if that's what you love, you're a writer."

-Sarah J. Maas
"You can take literary tradition and make it come alive again in a new way."

-Sarah J. Maas
Say Hi to Sarah!